Arbor - Parent Portal
Using Arbor Parent Portal - A Parents' Guide
---
What is Arbor?
Arbor is our student database and you may have had access to it at your child's primary school or a similar system. You can view attendance, behaviour, receive messages, consent to trips and much more.
All communications at SRWA are now digital, and we encourage all parents to download the Arbor app using the links below. The site can also be accessed via web browser. To ensure you can access all the system's functions we recommend Google Chrome.
Mobile phone users, should download the app to access Arbor.
There is also direct link to Arbor via our quick links on the top right of every page of the SRWA website.
Logging In For the First Time
To login into the Parent Portal for the first time and view your child's dashboard, you can use the email that came from SRWA to welcome you to Arbor.
This email will confirm your username (your email on our school record) and a link for you to click on that will take you directly to SRWA's Arbor site. An example is highlighted in a green box in the following image:
On your first login only, you will need to enter your child's date of birth to access the dashboard.
We also recommend that you log in for the first time on a desktop computer, using Chrome as your web browser.
Forgotten Password/Password Reset
If you have accessed the Parent Portal previously, and have forgotten your password, then select the option 'Forgotten your password?' when heading to https://sir-robert-woodard-sec.uk.arbor.sc.
This will take you to a second screen where you can enter your email to generate a new password.
If you are still unable to login after following these steps please contact SRWA directly.
The Arbor App
You can now access all the data you usually get via the Arbor mobile app. It is available on iOS and also Android. You can quickly and easily access information about attendance, behaviour and sign trip consents while on the go. No desktop computer required. The app also allows you to receieve push notifications.
You can download the Arbor app from iTunes and Play. It's free to install and we recommend it instead of accessing Arbor via a mobile web browser.
Your Child's Dashboard
The dashboard is the first screen that you will see. This gives a quick glance of the student's daily timetable, behaviour points, notices, current attendance and progress.
You can return to this page at any time by clicking on the SRWA logo or choosing Dashboard from any menu.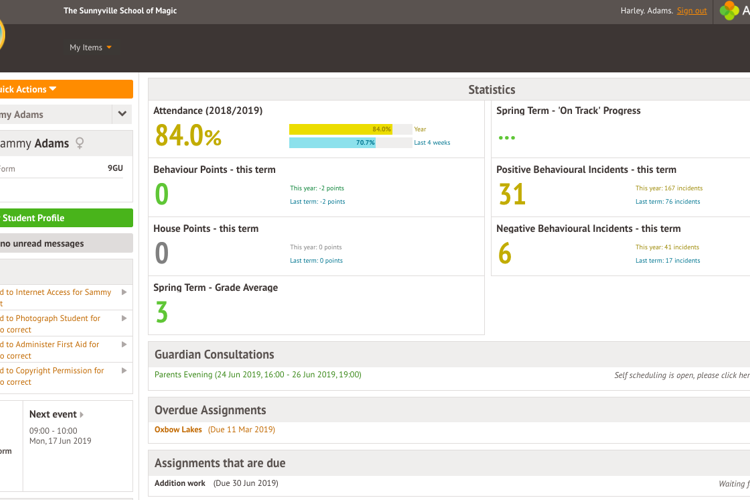 ---
If You Are a Guardian to Multiple Children at SRWA
If you are the Primary Guardian for more than one child in the school, you can access and view each child through the same portal by clicking on the name at the drop-down menu with the children's names in the top-left of the home page, then change sibling.
On doing this for the first time, you will need to enter your other child's date of birth to access their dashboard.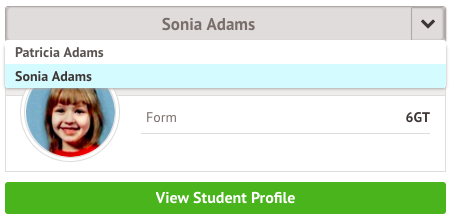 Updating your details
From the main dashboard click on View Student Profile, here you can see all the information about your student. You will also see in the notices section if any information is missing if you want to add in the information from a notice you can do this by clicking on the notice directly.
To update information click on the detail you would like to update and click edit.

You can then update the details and click save changes.

Data you can access about your child
You will be able to click on different parts of the home page to view more data on your child.
For example, clicking the attendance percentage, will bring up the attendance page which breaks down the attendance figures into present, late, or absent.
Once you've clicked on Attendance, or another item, you will see a menu appear like so in the left-hand side of the page you are now on: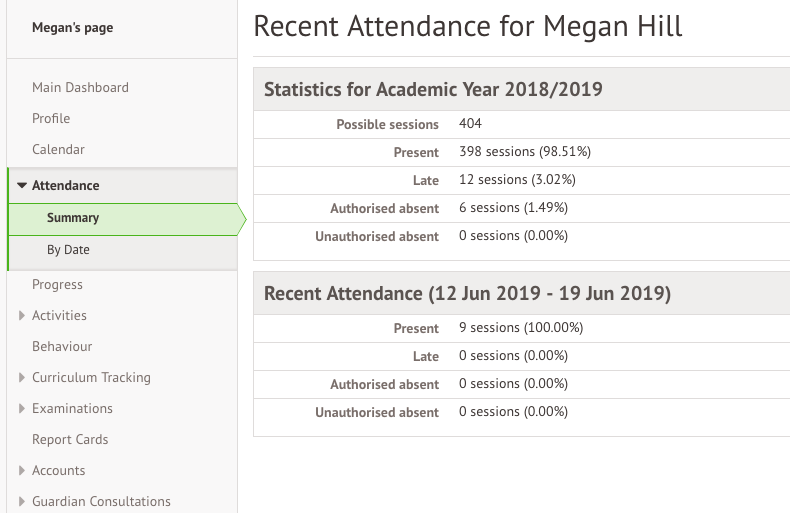 Profile - this allows you to see basic information about your child, and highlights any unread notices or actions needing to be completed. You will be able to amend details such as your contact details, medical information, consents, and so on. This is the place to keep your data up to date. We will no longer send out paper requests for data updates. Everything will be done through Arbor.
Clicking the different options allows you to see further information on your child. For example:
Calendar - this shows the student's calendar for the academic year, including timetable and events.
Attendance by Summary – Statistics and recent attendance for the academic year as shown.
Attendance by Date – This is a breakdown of the student's attendance, day by day with the mark.
Progress – This gives up to date student progress using a table and chart.
Behaviour – In this section you can view the positive and negative behaviour points given as well as further information about the incident.
Report Cards – All the report cards that the school publishes for the student will be available here.
Giving Permission for Trips
In Arbor, you may be required to give permission for a trip. You can see any trips that are available by clicking on the Quick Links menu (see below) and choose trips from the menu.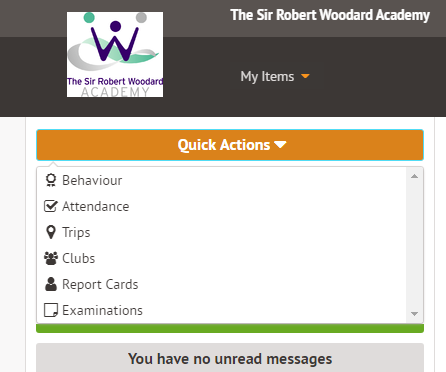 Once in the trips section, you can click on any trip and give consent as below. If there is any payment required, you can also make the payment in Arbor.