Homework
Show My Homework
At SRWA we use Show My Homework to set homework for all students in years 7-11. Students can login using their academy @srwa.co.uk email address and school password to login on the Show My Homework website.
You can find the link in the Quick Links at the top right of any page on this website. Students can view the homework calendar at any time without a password at https://robertwoodard.satchelone.com There is also a link in the Student menu on this site for easy access.
For personalized access to SMHW, students and parents can login as below.
For students to sign in:
Go to showmyhomework.co.uk and click login
Click the student tab
Click the "Sign in with Google" button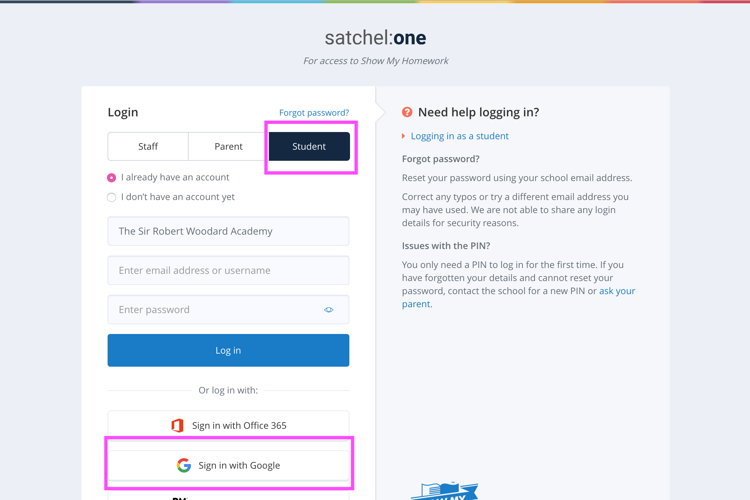 For parents to sign in:
We will send you a PIN code by email
Go to showmyhomework.co.uk and click login
Click the parent tab
"I don't have an account yet"
Enter your email address and PIN code we have sent you.
If you already have a child at SRWA?
The system allows you to see personalised information about the tasks set for your children. You can download the app (links below) and use the Show My Homework website.
You can login with a PIN which will have been given to you at the start of the year. This will give you access to personalised information about your children, allow you to receive notifications and check when homework is set and when it is due.
There is a calendar of all tasks set on the Show My Homework site . There is no need to login to check the information; simply find your child's teacher or year group.
You can also get the iOS and Android apps to view your child's homework. If you don't know your PIN, let us know and we can help you out.
We would encourage all students to download the app and login . Students can login by clicking on the Sign in with Google button and enter user their school email address firstname.surname@srwa.co.uk and their school computer password.