Admissions
Our current pupil admission numbers (PAN) for Year 7 is 240 students per year.
Over the course of the past four years demand for a place at The Sir Robert Woodard Academy has increased greatly, particularly in the area of West Shoreham.
Our catchment area (shown below) includes all Lancing and Sompting primary schools and Swiss Gardens, Shoreham Beach and Buckingham Park in Shoreham.
There are various public transport options from Shoreham and other surrounding areas, more information on which can be found on our Travel page here.
Our full admissions policy for 2020/21 can be found here.
This year's main transition events are as follows:
Full details of our Transition programme for 2021 can be found here.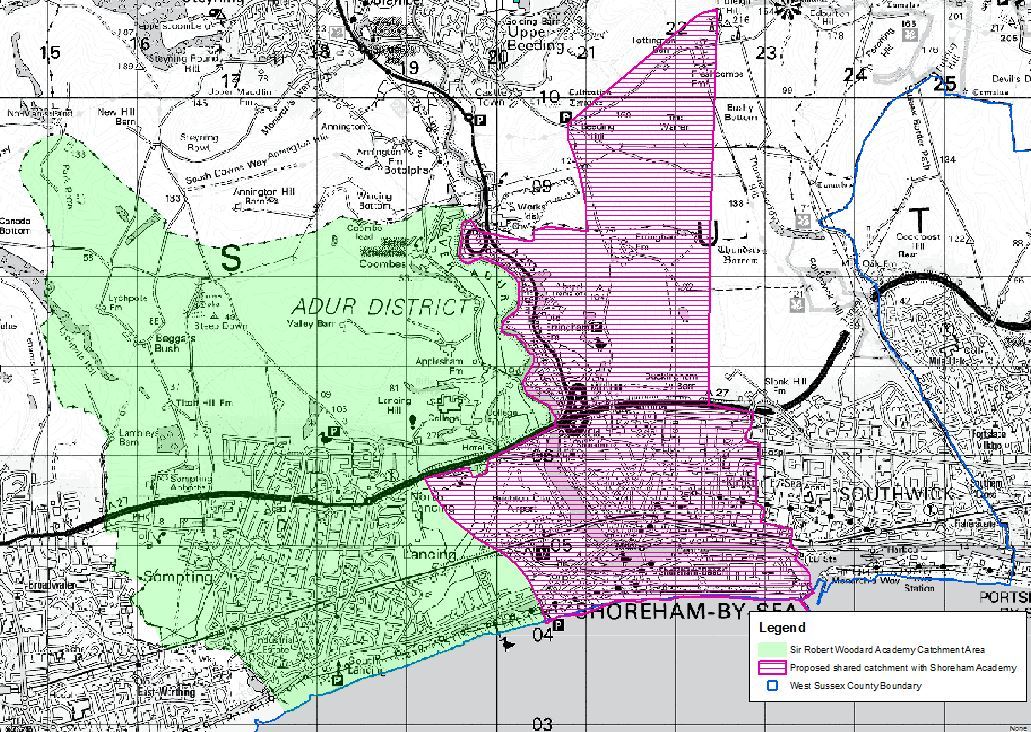 Admissions for places at SRWA for prospective students joining years 7 - 11 are co-ordinated by the West Sussex Admissions Department. To find out more about how to apply for a place at The Sir Robert Woodard Academy, please Contact West Sussex Admissions: https://www.westsussex.gov.uk/education-children-and-families/schools-and-colleges/school-places/ or for further information on how to apply please see the West Sussex County Council website.
The deadline for applying for Year 7 places at The Sir Robert Woodard Academy in September 2022 is 31st October 2021. All enquiries should be directed to the Admissions Department who can be contacted on 0845 075 1007 or by email at admissions.south@westsussex.gov.uk.
Due to the constraints of the coronavirus pandemic, last year we were unable to invite prospective parents to an in-person Open Evening and instead showcased the Academy at a virtual event on the 1st October 2020.
Prospective Sixth Form students and their parents were invited to attend an open evening on Thursday 15th October. Applications to join the Sixth Form should be sent direct to The Sir Robert Woodard Academy and can be submitted at any time during the academic year.
There are 240 available places in all lower school years. All places at the academy are free and open to children of all abilities and from all backgrounds. The prospectuses for The Sir Robert Woodard Academy and for our Sixth Form, W6, can be viewed or downloaded here.