Admissions
Our current pupil admission numbers (PAN) for Year 7 is 240 students per year.
Demand for a place at The Sir Robert Woodard Academy is on the increase, particularly in the area of West Shoreham. We wished to respond to local need and as such from September 2017 began to run a school minibus to pick-up and drop-off students from West Shoreham. There are 16 spaces on the minibus, which is subsidised by the academy to keep the cost at the same cost as the local public bus. We understand that for some families this can provide a safe and stable introduction to travelling to school in the first year.
The academy went out to consultation about extending the catchment area which came into effect this year. The new catchment area, to include the primary schools of Swiss Gardens, Shoreham Beach and Buckingham Park, is shown below. The approved admissions policy from September 2019 can be found here.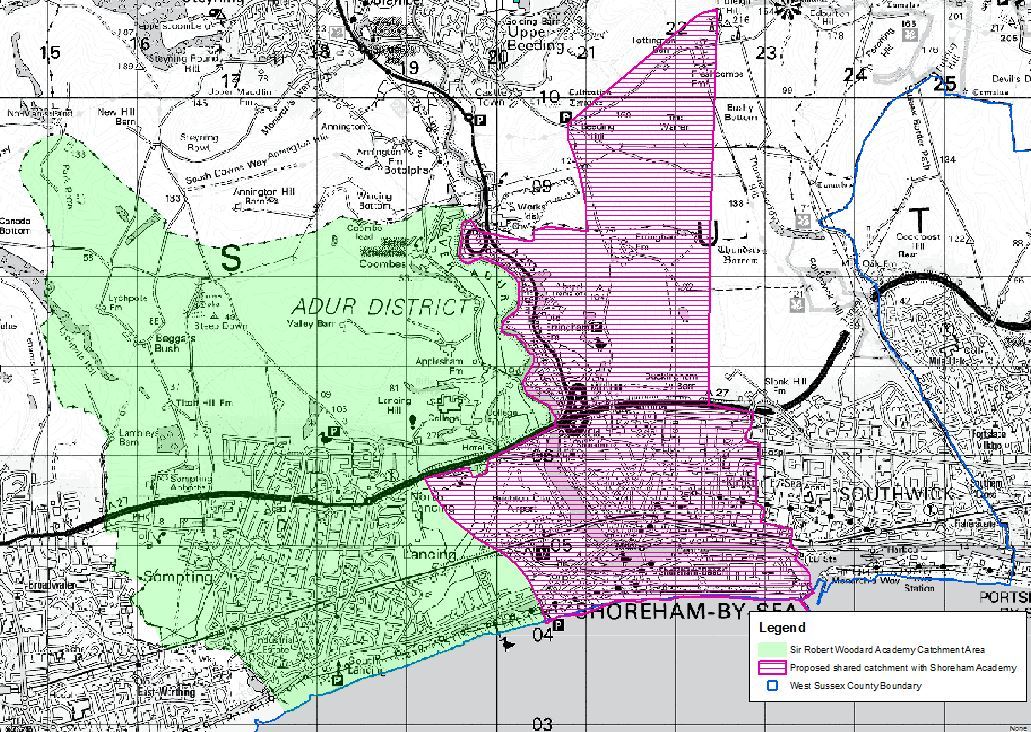 Admissions for places at SRWA for prospective students joining years 7 - 11 are co-ordinated by the West Sussex Admissions Department. To find out more about how to apply for a place at The Sir Robert Woodard Academy, please Contact West Sussex Admissions: https://www.westsussex.gov.uk/education-children-and-families/schools-and-colleges/school-places/ or for further information on how to apply please see the West Sussex County Council website.
The deadline for applying for Year 7 places at The Sir Robert Woodard Academy in September 2020 is 31st October 2019. All enquiries should be directed to the Admissions Department who can be contacted on 0845 075 1007 or by email at admissions.south@westsussex.gov.uk
Prospective Sixth Form students and their parents are invited to attend an open evening on Thursday 1st October. Applications to join the Sixth Form should be sent direct to The Sir Robert Woodard Academy and can be submitted at any time during the academic year.
Our open evenings give prospective students and parents the opportunity to meet the Principal and find out what The Sir Robert Woodard Academy can offer them. Parents seeking a place for their child during the academic year are warmly welcomed to contact the school to arrange a guided tour.
There are 240 available places in all lower school years. All places at the academy are free and open to children of all abilities and from all backgrounds. The prospectuses for The Sir Robert Woodard Academy and for our Sixth Form, W6, can be downloaded via the links on this page.