Friends of SRWA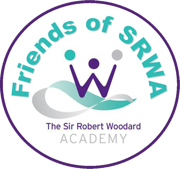 Hello and a warm welcome to all existing and new Parents and Carers. We are a small group of parents, teachers and governors that are working together as the Friends of Sir Robert Woodard Academy (PTA).
Well, here we are in the latter months of 2021 and how things have changed for us as a group. We have held Zoom meetings over the past 18 months including our AGM. Due to a change of circumstances our Chair, Katy Beadell, has had to step down so we are now looking for both a Chair and a Secretary to help us move forward.
We have managed to sort out the older lost property/uniform and have held several sales raising in excess of £200 for our funds. Going forward we will still hold Zoom meetings for the next few months while we consider other fundraising ideas.
At our monthly meetings held in November, January and February, we had started to plan fund-raising activities for the summer term, only one of which we were able to put in place, which was the 80's Aerobic session - an full hour of aerobics dressed in 80's clothing. Several members dressed up properly and really transported us all back, some to our youth, others to a time and dress style long forgotten. Pictures are available on request!
We also have a large amount of secondhand uniform pieces for sale. We are in the early stages of planning to be able to sell this to parents at academy events.
Please let us know if you have any of your own ideas for fundraising or if you can support us at future events. All interest and support is very much welcomed.
If you have any questions please contact us at friends@srwa.co.uk.