Wisepay - Adding Additional Children
If you have more than one child at SRWA, you will need to merge your Wisepay accounts together. Then you only have to login once and you can switch between each child from one account. Only one username and password to remember.
To get your new student username and password, contact enquiries@srwa.woodard.co.uk for the details to be sent to you.
Here are the steps to follow to connect your accounts.
1. Click on My Merged Accounts and click Merge an Account.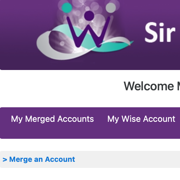 2. Enter the username and password for your year 7 student account.
3. Once it finds your child, click Merge this Account.
4. You will now see Merged Accounts - View your Merged Accounts.
5. From here, you can switch between your children.